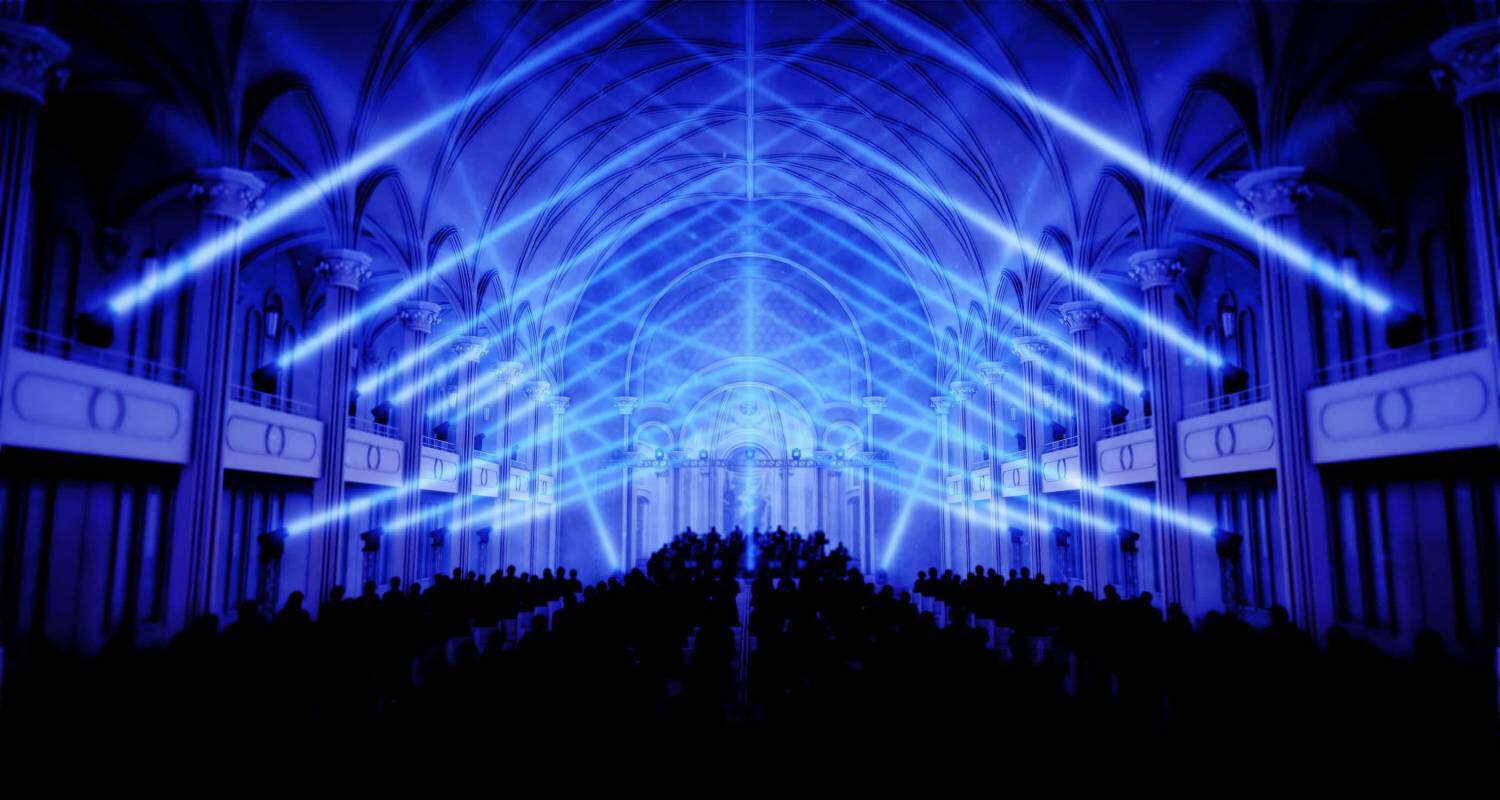 Transfiguracio
Onionlab
42 Chenango Street
September 7, 2018 8:00 PM

-

11:30 PM
September 8, 2018 8:00 PM

-

11:30 PM
PRESALE TIX 7/30 AT NOON.
GENERAL ON SALE 8/1 AT NOON.
NOTE: To order presale tickets, go through the checkout process and enter your code in the REVIEW ORDER screen.
Featuring the world-class Binghamton Philharmonic.
Transfiguracio is a fully immersive presentation that will bring a mesmerizing interaction of lights and orchestral music to the centuries old United Presbyterian Church on Chenango Street. Transfiguracio builds in four movements: Introspection, Investigation, Transfiguration and Plenitude. Originally composed for a 10 piece chamber orchestra, Transfiguracio has been completely rewritten to feature a 44 piece orchestra from the Binghamton Philharmonic. Musically, the composer describes the hypnotic score as classical, contemporary and minimalist, with a light electronic touch. The constant momentum of vividly highlighted light fragments sweeps across the ceiling, bringing us closer to the architecture by uniting music, illumination, and emotion.

VENUE
United Presbyterian Church, 42 Chenango Street, Binghamton, NY 13901
PERFORMANCES
There will be 8 performances of Transfiguracio total. On both Friday (9/7) and Saturday (9/8) nights, the show will be performed at the following times:
8:40:00 PM
9:13:00 PM
9:52:00 PM
10:25:00 PM
TICKET INFORMATION
Due to the limited size of the venue, Transfiguracio will be LUMA's first ticketed major feature. Due to the generous support of United Presbyterian Church, tickets to see the full orchestra and light show are only $8. The show is approximately 17 minutes long. We expect the show to sell out rather quickly, so please don't wait. There will be four shows on Friday night and 4 shows on Saturday.
TICKET PRESALE
Tickets will be available online to (a.) people who have pledged the LUMA KickStarter for any amount and (b.) Binghamton Philharmonic subscribers beginning Monday (7/30) at noon. The presale code will be sent out Monday morning. Please pledge by Sunday night to get the code. The ticket purch
TICKET ON SALE
The general sale will begin Wednesday (8/1) at noon. The link to buy tickets will be posted on this page. The maximum ticket order is 6 per transaction. Seating is general admission.
LATE ARRIVAL POLICY
Unfortunately, due to the nature of the show, WE CAN NOT SEAT LATE ARRIVALS and we can not refund your ticket. Please make sure to show up at least 10 minutes prior to your performance. Seating is highly limited and we likely will not be able to seat you at a later performance. The city is expecting a very high traffic volume downtown during LUMA. Please plan to be downtown 90 minutes in advance of your show to ensure you have no problems reaching the venue.
Tamara Sefcovicova
Jordi Pont
Xavi Bové